Welcome To Castle Hotel & Spa!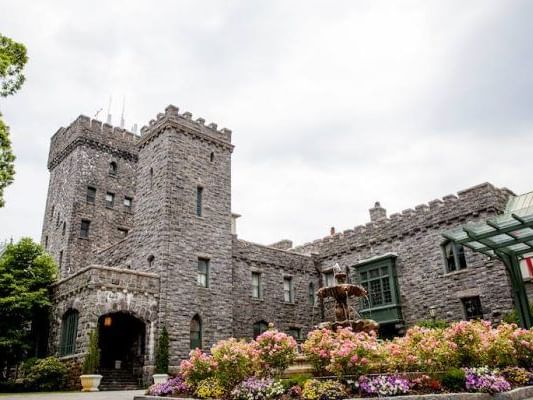 Have you ever dreamed of spending the night in a castle while overlooking a beautiful river in the heart of gorgeous landscapes? When you stay with us at the Castle Hotel and Spa, this dream becomes a reality with our magnificent five-star hotel. Live in luxury for an unforgettable stay at one of the most stunning Hudson Valley hotels imaginable at Castle Hotel and Spa in Tarrytown, New York.
A Hotel Fit For Royalty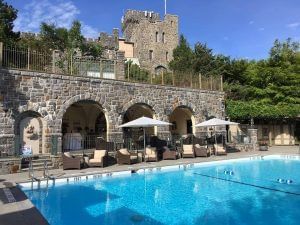 From the towering brick architecture to lavish accommodations, there is nothing ordinary about our beautiful Castle Hotel and Spa. As you arrive and the proud stone walls stand tall against panoramic views of the Hudson Valley, you will be filled with wonder as you enter our story-book grounds. Enjoy the sounds of fountains trickling outside and the clinking of glasses as other guests enjoy a meal at Equus on the patio. When you reach your room, you will discover our elegantly designed quarters that are fit for royalty and awaiting your arrival. From cozy common areas in our luxury suite to intricate chandeliers ready to illuminate your nights, you will be able to find ideal castle accommodations to fit your every need. When it comes to Hudson Valley hotels, no other accommodations will match the experiences that await you here.
Only The Best Amenities
Whether you are here for a relaxing escape or the weddingof your dreams, the Castle Hotel and Spa offers a variety of amenities that are perfect for any occasion. Take a dip in our sparkling pool, play a game of garden chess, soak in the tranquility in the garden areas, and so much more. When you are looking for a serene setting and a luxury stay, you need not look further than the Castle Hotel and spa. Enjoy a day in our spa, Sankara, for an array of rejuvenating, world-class treatments. You will also want to try our award-winning restaurant, Equus. Having been recognized for their excellence by Forbes Travel Guide, AAA, New York Times, and The Academy of Hospitality Sciences, dining at Equus is an experience to behold.
Create Your Very Own New York Fairy Tale
As one of the top-rated five-star Hudson Valley hotels, Castle Hotel and Spa delivers only the best experiences for all of our guests. Whether you choose a luxury package or just need to escape the city for a while in a hidden paradise, there is a perfect stay waiting for you at the Castle Hotel and Spa. Discover the wonders of the Hudson Valley and create memories that will last a lifetime with us. Your luxury getaway is ready; are you? Visit us at the Castle Hotel and Spa and create your very own New York storybook escape.