Visit the Coffee Shops in Tarrytown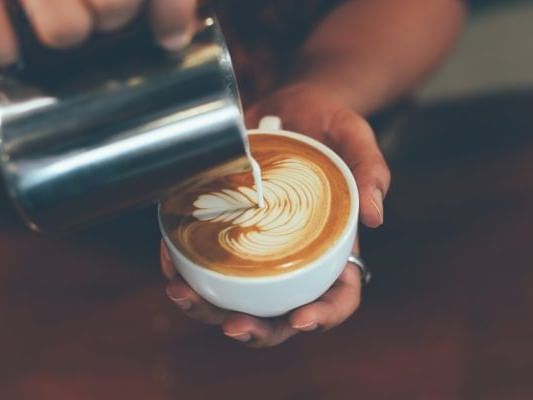 Just because you're on vacation doesn't mean you don't need your daily coffee. Hopefully, you won't need it because you're tired—as you should be catching up on sleep during getaways—but you want it for the smooth taste or the luxury of having something to sip on during your adventures around town. Whether you drink the bean juice for the flavor or the caffeine jolt, visiting coffee shops is a fun way to explore a vacation destination. Let our team at Castle Hotel and Spa help you avoid stopping at the national chains by sharing the best local coffee shops in Tarrytown to try.
How to Find a Coffee Shop in Tarrytown
Perhaps you won't visit a coffee shop unless there's free Wi-Fi. Or, you want specialty drinks you can't find anywhere else. Based on your preferences, check out our guide to the coffee shops in Tarrytown and Sleepy Hollow, NY. You'll find the perfect option (or options) for your morning pick-me-up.
Coffee Labs Roasters Inc.
This independent coffee roaster is perfect for the ethical coffee enthusiast. As a part of the third-wave coffee movement, Coffee Labs Roasters Inc. uses local coffee beans from sustainable sources. Plus, it might be one of the best health-conscious options for coffee shops in Tarrytown: they use ingredients like beet and charcoal powder in their drinks. Although, that doesn't mean they skip out on the fun parts of coffee slinging: they make cute designs on their lattes and specialty drinks. Check out their Instagram for a few examples.
Lighthouse Ice Cream and Coffee
Thanks to Lighthouse, there's no need to search "affogato near me" during your stay at Castle Hotel and Spa. The selection of homemade ice cream, sorbet, and gelato pairs nicely with local espresso to create the perfect treat. If you're looking for a regular drink instead of a dessert, opt for a latte, mocha, cappuccino, or americano. Tarrytown ice cream and coffee has never been better.
Muddy Water Coffee & Cafe
If you want to find a coffee shop in Tarrytown that focuses on supporting the locals, Muddy Water is the place to go. Works by local artists hang on the walls, and musicians and other performers can take their turn at the mic throughout the day. People can play board games while listening to local acts, sip on classic coffee drinks, and nibble on gluten-free and vegan desserts and pastries.
Staying at Castle Hotel and Spa
At the various coffee shops in Tarrytown, you can find more than a cup of joe. Whether you're looking for live music, a cute place to answer a few emails, or even to eat breakfast in Tarrytown too, check out the several options the historic Hudson Valley has to offer. Castle Hotel and Spa is located close to several of these shops, so you won't have to wait that long for your morning pick-me-up after you finally get out of bed. For more information about staying at Castle Hotel and Spa and about our packages, visit us on our website or give us a call at 914-631-1980.