Visit Tarrytown NY During Autumn's Peak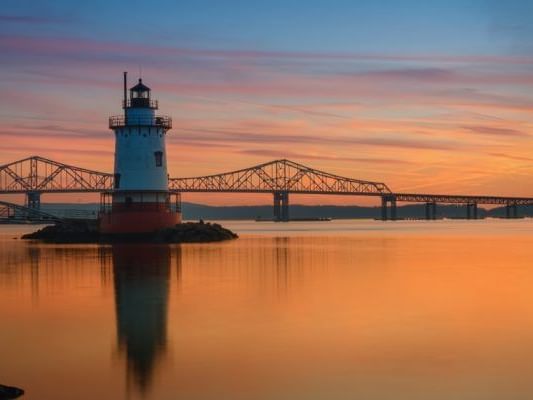 New York's Autumn months are some of the most beautiful times to visit this New England state, and what better place to watch the leaves change color than in a room tucked inside a castle in the woods? A stay at Castle Hotel & Spa during your autumn visit to Tarrytown NY will make you feel like you're in your very own fairytale. The castle itself is surrounded by trees that will turn vibrant shades of orange, yellow, and red in the fall. Your stay with Castle Hotel & Spa will include your choice of room, depending on what type of accommodation you prefer, from the Castle Junior Suite to the Luxury Suite, and everything in between. Located close to Manhattan, the Castle Hotel & Spa will allow you to both explore and escape the city, and with their luxury spa packages, you'll be able to escape your troubles too.
Why Tarrytown NY?
With its proximity to Manhattan, you won't be disappointed with your trip to Tarrytown NY this fall. The Castle Hotel & Spa features everything you could possibly want so that you can enjoy this autumn season for everything it has to offer, from their relaxing full spa to jogging paths that will allow you to get outside and enjoy the cooler weather autumn has to offer.
Built right at the turn of the century, the castle originally had 45 rooms, which has since been expanded upon to include the many amenities the castle provides today. However, with all of the original architecture, it's clear that a stay at Castle Hotel & Spa will feel like something out of a storybook, especially with the changing colors of the trees just outside your window.
Autumn in Tarrytown NY
A visit to Tarrytown NY during autumn's peak is sure to amaze. With the Castle Hotel & Spa's unique architecture, you'll surely have a fantastic experience when it comes to exploring Tarrytown NY in Autumn. One of the things that makes Tarrytown NY so special is its proximity to Sleepy Hollow, of the headless horseman myth. Here, you'll be able to explore the sites where Washington Irving got the inspiration for his characters, including the Old Dutch Church. Sleepy Hollow is one of the most prominent autumnal tourist destinations in the area, due to the spooky stories centered there, as well as the beautiful fall colors that take hold of New York every year.
Daytime Exploration
There are also plenty of other activities that will get you outside enjoying these autumn trees, such as a walk inside Tarrytown Lakes Park, where you'll have your choice of their extensive nature trails. You could also spend a day exploring the gothic Lyndhurst Mansion and its surrounding natural landscape. The mansion is also host to fun autumn events such as the Fall Craft Show and Jay Ghoul's House of Curiosities.
Castle Hotel & Spa
From exploring the very Sleepy Hollow that inspired the famous Headless Horseman story to attending a fall-themed event at the Lyndhurst Mansion, you'll have plenty of opportunities to enjoy everything the autumn season has to offer you when you stay at the Castle Hotel & Spa in Tarrytown NY. The Castle Hotel & Spa itself has everything you could possibly need to enjoy autumn at its very finest, from its architecture to its proximity to the tourist attractions of Manhattan and Sleepy Hollow. Surrounded by trees ready to show their stunning autumn colors, Tarrytown NY truly is a magical place to spend your autumn.