Tarrytown Restaurants: Discovering Equus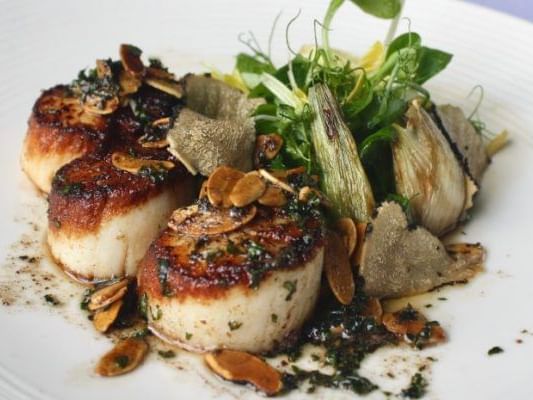 If you enjoy dining experiences that embody both elegantly prepared and full-flavored dishes, the Castle Hotel and Spa would like to introduce you to our phenomenal on-site restaurant. Known for being one of the best Tarrytown restaurants with stunning views out over the Hudson River Valley and a romantic setting, the award-winning Equus will have your taste buds singing with delight. Guests come from near and far to indulge in the full palate of flavors on our menu, and it is easy to see why.
A Castle Restaurant Experience
Many of our guests are looking for a phenomenal experience that you can't find just anywhere when they visit the Castle Hotel and Spa. When it comes to Tarrytown restaurants, few can hold a candle to the splendor that waits at Equus. With elegant designs throughout the dining room, windows that offer fantastic views, and a patio area for outdoor dining, the atmosphere at Equus is perfect for any occasion. Whether you are hoping to treat your loved one to a lovely evening dinner or would like to experience fine dining in the historic Hudson Valley, Equus is the ideal restaurant for your outing.
A Signature Menu
Though we take pride in our beautiful dining area, the highlight of any visit to Equus is, of course, the menu. Tantalize your taste buds with a full menu of incredible culinary creations. For lunch, you can indulge int tempting medlies of cheese, small plate meals for a light lunch, large plates with delicious items like duck and cavatelli. Each menu option can be paired perfectly with one of our many wines to round out an incredible mid-day meal. When dinnertime arrives, join us for even more delightful dishes and libations that will fill your senses with the flavors and aromas of artisan entrees. Allow the flavors of plates like our pan-roasted king salmon or a perfectly-prepared filet mignon to dance across your taste buds. Following your main course, treat yourself to a delightful dessert to complete your unforgettable dining experience.
Stay. Dine. Relax.
When you stay at the Castle Hotel and Spa, you will feel as though you have walked into a fairytale novel that you can't stop reading. From marvelous garden areas to our relaxing Sankara Spa, you can relax and unwind for an incredible escape in the Hudson River Valley. Dine on delectable dishes that are fit for royalty and get your beauty rest in our stunning accommodations. When it comes to Tarrytown restaurants and Upstate New York lodging experiences, you will not find a more exquisite experience than a getaway to the Castle Hotel and Spa.