Packages at Castle Hotel and Spa: Sailing Near Me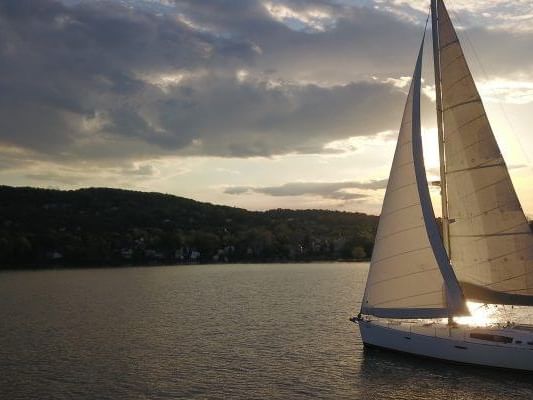 What's more picturesque on vacation to the historic Hudson valley than a sunset sail on the river? Although the rest of Tarrytown and Sleepy Hollow have dozens of landmarks and attractions to visit, taking in the rouge and amber of the sky at sunset is something you cannot miss. Thanks to a partnership with Nyack Boat Charter Company, we're offering a Sailing-On-The-Hudson package to your accommodations at Castle Hotel and Spa. By booking, two seats on a surreal cruise and a romantic date night are yours. If you want to schedule an unforgettable night on the water during your stay at Castle Hotel and Spa, there's no need to search "sailing near me," thanks to this package. Continue reading to learn more about this great experience for lovers of great sights and date night.
Sailing-On-The-Hudson Package Inclusions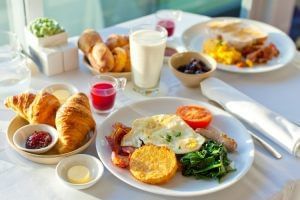 The Sailing-On-The-Hudson package guarantees two seats on a two-hour sunset sail, anytime from April until the end of October. Push off from Nyack Pier, and get settled in with your choice of local beers, wines, and snacks to sip and graze on throughout the evening. The next morning, start your day on the right foot with a delicious breakfast for two. Trips are weather dependent, so keep that in mind as you book.
Sailing Packages Add-Ons
To make your life a little easier, Castle Hotel can book you a car service to Nyack Pier, so you don't have to worry about transportation there. If you'd rather not rely on the snacks on the sunset sail, pack your own picnic basket from Castle Hotel before you go. Choose from red wine, white wine, or champagne to pair with your snacks. When you return to your room, continue the bubbly with champagne delivery, accompanying chocolate-covered strawberries and a floral arrangement. To put the icing on the cake, choose between a spa treatment or a couple's massage as a final addition option for the Sailing-On-The-Hudson package. When it comes to searching "sailing near me" near the Hudson River, our complete experience is a perfect option.
Sailing on the Hudson Package Details
This sailing package, in partnership with Nyack Boat Charter Company, is available between April to the end of October. Luckily, sails can go out rain or shine. However, in the chance of extreme weather, rescheduling needs to happen no later than 5 p.m. If rescheduling is not possible before guests end their trip, Nyack Boat Charter will offer a full refund minus 20 percent.
Charters can be cancelled with only a $100 cancellation fee four weeks ahead of time. Between two and four weeks, bookers will receive a full refund minus 20 percent. Any less than two weeks, and no refund will be given unless Nyack Boat Charter books a replacement. If a replacement books for an equal or greater amount of money, a full refund will be given (minus a $100 cancellation fee).
While on the sail, passengers must alert the captain to any poor swimmers on board. They will be required to wear a PFD for safety. In addition, riders must stay in the cabin, unless the captain tells them they can do otherwise. Please email maitred@castlehotelandspa.com for any questions.
Castle Hotel
Don't forget to check the availability of the package by emailing us before you book. Make sure to arrive at Nyack Boat Charter Company 10 minutes early, so you don't get a late start. This Sailing-On-The-Hudson package will be the best experience when you search "sailing near me" in preparation for your historic Hudson valley trip. If you love this package, check out other ones to experience Castle Hotel in all of its beauty at great prices. Call us at 914-631-1980 or learn more on our website.