Historic Hudson Valley Experiences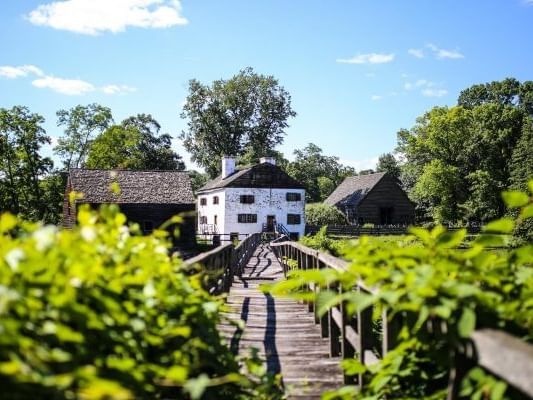 New York's Hudson Valley is a beautiful destination along the Hudson River that lets you escape from the bustling cityscape of Manhattan. The Hudson Valley region stretches from Westchester County to the state's capital of Albany and offers a variety of outdoor activities to enjoy as well as discovering historic Hudson Valley sites. In the heart of all of this is the magnificent Castle Hotel & Spa. Ideally located 30 minutes from Manhattan, Castle Hotel & Spa is the perfect place to get away from it all. Stay with us for the chance to explore a variety of local historic Hudson Valley destinations during your vacation.
Discover the Wonders of Kykuit
No historic Hudson Valley vacation can begin without a trip to Kykuit. Located atop a beautiful hill, overlooking the valley, Kykuit is the home of four generations of the Rockefeller family. Known for its unique architecture, stunning gardens, and of course, it's incredible history, Kykuit is a great destination for history buffs of all ages. The 40-room house museum is part of the National Trust for Historic Preservation, and the Castle Hotel & Spa makes it easy to explore with their historic Hudson Valley package. The package includes accommodations at the castle along with a delicious breakfast in the morning. You'll receive two tickets to Kykuit's Grand Tour, a three-hour tour that will take you to the best places around the property.
Washington Irving's Sunnyside
If you're a fan of history and literature, then a stop by Sunnyside is a must-see on your historic Hudson Valley vacation. Washington Irving, the creator of popular characters such as the Headless Horseman and Rip Van Winkle, purchased a beautiful Dutch stone house beside the Hudson River in 1835. Over the years, he expanded and remodeled the home, adding unique elements such as Tudor-style chimneys, Gothic windows, and a Spanish tower. Today, the home welcomes visitors on guided tours to explore Irving's writing desks, books, and other possessions.
History of the Castle
The Castle Hotel & Spa itself is a historic Hudson Valley destination. A well-respected newspaper, playwright, and businessman by the name of General Howard Caroll purchased the Castle's land as a home for his family in charming Tarrytown, New York. Called "Carrollcliffe," the home was designed by New York architect Henry Kilburn and built in two stages between 1897 and 1910. The castle featured unique stylistic choices of the Norman fortification in Wales, Scotland, and Ireland as per Caroll's request.
Various parts of the castle have a unique history associated with it, such as the Oak Room, which features wainscoting brought over from General Carool's house in St. Germain, France. In 1981, Tarrytown designated the Castle Hotel a historic landmark, and in the early 90s, when the Castle was transformed into its luxury hotel status of today, the original suites were restored, and a 24-room addition was added and named Carrollcliffe as a tribute to the castle's heritage.
Historic Hudson Valley
After you've spent your day exploring the surrounding historic area, there's nothing better than relaxing back at the Castle on the Hudson. Unwind in one of our luxury castle rooms, indulge in a delicious meal at our Tarrytown restaurant, Equus, or soothe your tired muscles with a massage at our Hudson Valley spa. Give us a call today at 1-914-631-1980 and let us assist you in planning a memorable experience in historic Hudson Valley.