Castle Hotel & Spa: A Romantic Escape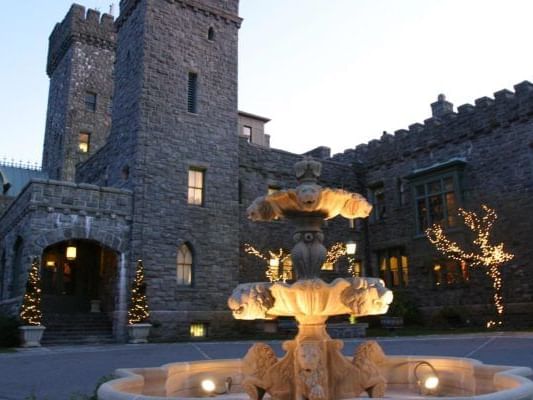 When our valued guests need to get away from it all and want to spend some much-needed quality time together, escape for a romantic stay at the Castle Hotel and Spa. Relax like royalty as you enjoy each day at your own leisure while taking in the beauty of our elegant hotel and spa. Castle Hotel is ideal for romance with a stunning location overlooking the Hudson River Valley and hosting an array of spectacular amenities for you and your loved ones.
Discover Ultimate Tranquility
With an atmosphere of old-world elegance and a touch of royal charm, each of our valued guests can soak in the majesty of Castle Hotel and Spa while savoring some much-needed time away from the chaos of daily life at home. One of the amenities that every couple should take advantage of during their stay is our Sankara Spa. Known as one of the best spas in New York, Sankara can bring peace to your minds and sheer relaxation to your bodies. Whether you would like to get couples massages, facials, or a full spa package, you will both leave feeling rejuvenated and refreshed.
A Couple's Ideal Destination
When you stay with us at the Castle Hotel and Spa, you can spend your days however you wish. Take it easy with an easygoing stroll through the gardens, and relax in your cozy accommodations to enjoy the peace and tranquility, or adventure into Tarrytown NY to explore and discover the best local attractions. Take a dip in our pool, soak in the whirlpool, or experience the decadent tastes of fine dining at our Equus Restaurant. You can plan out your days with a splendid itinerary or simply see where each day takes you.
Suite Accommodations For Sweethearts
One of the most important parts of any romantic escape is having ideal accommodations. At the Castle Hotel and Spa, you can choose from a variety of rooms that boast class and comfort. Enjoy comfortable furnishings, and wake up to the New York landscapes greeting you each morning. Each room is equipped with all of the essential comforts of home as well as a complimentary mini-bar so you can relax in complete comfort every evening, and wake up every morning feeling well-rested for another wonderful day at Castle Hotel and Spa. You may even enjoy one of our incredible packages. If you and your love are in need of a bit of time away from it all, escape with us to the Castle Hotel and Spa, and discover the romance of Tarrytown NY.