A Sleepy Hollow Halloween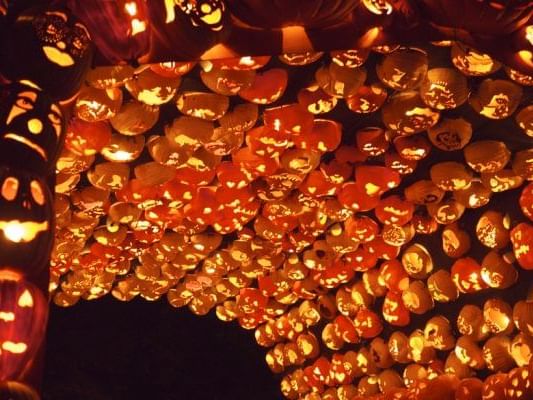 The historic Hudson Valley is where you want to spend the spookiest holiday of the year. Castle Hotel and Spa is located close to Sleepy Hollow, known for the infamous Headless Horseman that has been immortalized in movies and legends. Although we've got a man who walks around without a head on his shoulders, we can promise that you won't regret spending your Sleepy Hollow Halloween checking out these classic activities during your stay at Castle Hotel and Spa.
Sleepy Hollow Cemetery Tours
Even outside of the Sleepy Hollow Halloween season, the Sleepy Hollow Cemetery is one of the historic Hudson Valley sites that you can't miss. Visit the grave of Washington Irving, who wrote "The Legend of Sleepy Hollow," as well as other famous individuals like Andrew Carnegie, William Rockefeller, and more. Several day and night tours give you the flexibility to avoid the dark—or go at dusk if you're feeling brave.
Horseman's Hollow
Another essential item to check off your Sleepy Hollow Halloween bucket list is Horseman's Hollow. This haunted attraction takes you through the Old Dutch Church, the cemetery, and more, while the Sleepy Hollow Headless Horseman himself haunts you.
Great Jack O'Lantern Blaze Event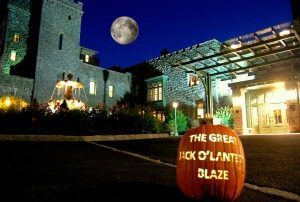 If you'd rather stay on the less daunting side of Halloween, get tickets to the Great Jack O'Lantern Blaze Event. Every year through November, stroll through 7,000 unique, hand-carved jack o'lanterns. Stand in awe at the Jack O'Lantern Statue of Liberty, the Pumpkin Planetarium, and new things every year. Held on the lawn of Van Cortland Manor, this is the largest Halloween and fall event in the tri-state area.
Spending Your Sleepy Hollow Halloween at Castle Hotel
Castle Hotel and Spa is only a short drive from each of these eerie attractions. The best way to spend the holiday is to do it the Sleepy Hollow way, with the classic Headless Horseman, and more. For more information about booking during Sleepy Hollow Halloween, give us a call at 914-631-1980 or visit us on our website. In addition, escape from NYC and come to experience one of the most famous Halloween Parade and Celebration in Hudson Valley with our special "City Escape" Room Package.